Translation-Tessellation

Translation - the process of turning parts of yourself into the physical realm through art.
Tessellation- repetitions and the equations that add up to form our lives.

" Life imitates art imitates life imitates art imitates... Presented in full focus in our second exhibition is the contribution of one's ever-changing environment and continued personal discovery to their subsequent 'voice', both artistically and otherwise. Entitled Translation-Tessellation, this show aims not only to present works born of each VA's completely unique experiences, but also to both highlight the oft-repeated processes so prevalent in the development of a personal practice and offer style comparisons resultant of personal affinities and life paths. One of the most pertinent perspectives a creative has to offer is their own, baring themselves in the ways they alone know best. This allows those close to [and not close to] them to enter an empathetic state that attempts to understand a life that they cannot and will not ever know. Regarding the conflict and chaos in Ukraine and the world right now, we hope that Translation-Tessellation also serves as inspiration for you to reflect on the lived experiences of those around you. As a cooperative people, this process of extrospection is how we ultimately begin to cooperate, heal, and grow through times of turmoil and uncertainty."

- Denver Nuckolls

Curated by Denver Nuckolls, Lindsey Flickinger, Janella Mele
Featuring
Count The Time, 2022
Ink on paper
each 19 x 24 in (set of 18)
Yolanda Yang
This is a serial, repetitive painting practice, which I can start with a table, a lamp, paper, and a sharpie. Eighteen pieces livestream my 18 nights in a row. The discipline of these paintings is " only paint when I am very drowsy and dizzy ". Through these Automatic Drawings, I want to capture the images of my hallucination caused by the tiresome that is accumulated in the daytime. The Tessellation names my process, and Translation is drilled into every second when ink touches the paper's surface when the shape of nothingness starts moving.
"Events. Physical or immaterial forces. Moments and eras. Storms and QR codes."
Most thankful to Janella Mele. Her work inspired me, so I began to make this practice as small digital glimpses.
Transformare, 2022

Wire, spandex, paint
6 x 5 x 8 in
Yolanda Yang
Transformare
, the name of this sculpture unveils this abstract riddle - trans ("across", preposition) + formare ("form"), presents the configuration of translating 2d paintings
Count the Time
into 3D kinetic sculpture. Combining various forms, exploring bridging different dimensional work is my translation - tessellation in terms of the art practice. Echoing the shape of the stretched maroon fabric,
Transformare
imitates the how the individual is being distorted, adapted, and then finally transformed in the time of chaos to survive and thrive.
Thirty Six Days, 2021

Watercolor, gouache on paper
each 4 x 6 in (set of 36)
Joel Rabadan
detail:
Thirty Six Days - Room
Left:
7.7.2020. TUES. 01:49, 2020

Watercolor on paper
4 x 6 in
Right:
09.09.2021. THURS. 12:03, 2021

Watercolor on paper
4 x 6 in
Joel Rabadan
This image file is an example of how most of these postcards have a message on the backside.
Mozart Street, 2018

Watercolor on embossed paper
each 20 x 17.5 in (set of 12)
Joel Rabadan
All of these works are a part of a series where I mapped my movements within a space. These spaces are often rooms I have inhabited in my life. They are visual translations of my movements and routines. Collectively, these paintings come together to document my emotional relationship to these physical spaces.
For example, in
Mozart Street (Set of 12)
all twelve paintings have the same shape embossed in the center, that shape is the layout of the room I had when I lived in an apartment in Jamaica Plain. They document 12 different days during the span of the Summer of 2017. They are affected by the activities of the day, repeated movements or interactions such as if I had visitors or how I spent my time alone.
soften your gaze and look sharp, 2019-21
Cape Town, South Africa (top left), 2019
Maputo, Mozambique (top right), 2019
Sacramento, California (bottom two), 2020, 2021
Photography
Katelyn Leaird
structure & chaos
human/ingenuity
love lies in-between
untitled, 2020
Charcoal and oil on canvas
32 x 24 in
Jon Feng
untitled, 2020
Acrylic, charcoal, and oil on canvas
32 x 24 in
Jon Feng
dreams and nightmares
security and loss
hope and dread
palimpsest [1], 2022
Denver Nuckolls
Written to explore ideas surrounding tension and release via looping landmarks within a slow-moving soundscape,
palimpsest [1]
develops parabolically through additive and subtractive sequences. This piece encourages the listener to acknowledge the two extremes of repetition: constants and changes. The former is introduced under the guise of a stationary drone, while the latter (functioning as formal catalysts) take the form of linked instrumental and ambient sounds. These individual levels stack as the large-scale form continues to reveal itself, creating a revolving chorus of changes-turned-constants that forms phasing relationships within itself. Accompanying the audio is a similarly structured film, providing a visual representation that follows the work's over-arching trajectory.
Untitled, 2022
Micron pen on paper
12 x 14.5 in
Elisabeth Gerald
My recent drawings function as explorations of memory. My personal experiences become harder to recall in detail as they shift and change. This collection of marks with an undefined end is an attempt to reconcile what has slipped through with what remains. My hand guides my pen, working in tight circles of dots. As marks start to overlap and seep into each other they bridge the space between. If a record, an inconsistent and fluid one.
The Museum Visits Me
or I am haunted by the tension between want and repulsion
On a desk behind the Do Not Touch line
is a notecard scrawled in a dead art historian's hand
A poem of sorts:
Suicide Is Not Love
And I Do Not Touch, but I
Do Posit
(isn't death the highest form of love?)
Never much into classics I find myself
whispering Out OUT, damned spot!
As my fingers bend and bleed and I
picture my fist in your pink amethyst, toothed,
bitten.
This one's had babies, a man-Visitor whispers to me in a conspiratorial tone, You Can Tell By Her Breasts.
Taste the difference! Exclaims the lesbian portrait
and through this sensual harassment I can.
I stoop for the human gesture of pulling up my sock
and try not to look at your ass as you walk by.
*
I found an apostrophe in the carpet, is it yours?
The Museum Visits Me, 2022
Leighah Scully
Untitled Hall Wall Monster, 2017

Sumi Ink on inkjet vellum scroll
6 x 2 ft
Janella Mele
This is my first Live Painting Performance using a ladder and coffee shop straw.
I Found My Voice Here, 2017

Sumi ink on inkjet vellum scroll installation
5 x 2 ft
Janella Mele
My first diptych expressionist experiment using Sumi Ink. Made during my experience in trauma group therapy.
installation view:
I Found My Voice Here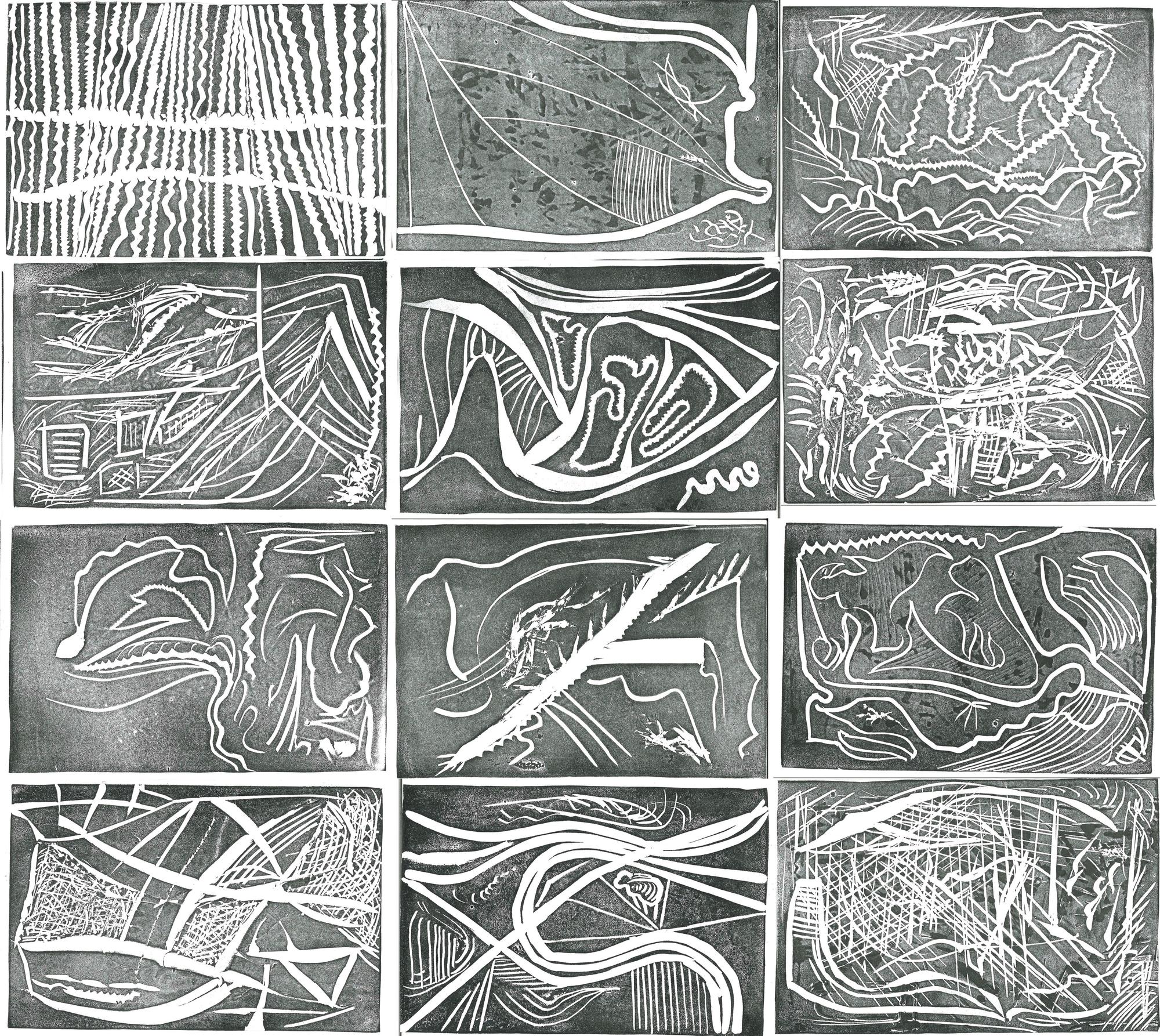 Scutigera, the first 12 months of Covid, 2021
Block prints, black ink on white paper
each 4 x 6 in (set of 12)
Patrick Brennan
The overall theme of these prints is my experience with developing anxiety and depression during the covid era and the continuous feeling of declining mental health now despite the fact I've been able to see all my friends and family much more often, which I foolishly thought would make my internal problems vanish, or at least subside a bit.
I have abstracted these anxious and toxic thoughts into compositions using sharp spindly house centipede legs and bodies because after living in a basement apartment during covid I became very familiar with those creatures and although I am terrified of house centipedes I also feel a strange kinship with them. I wish to use these prints like a vessel or icon to contain those parts of me that are actively trying to subvert my mind and torture me. The process of carving these block prints was extremely cathartic because the satisfaction of violently slicing the block felt like it healed my own wounds as a result, like an inversion of the suffering cast on me.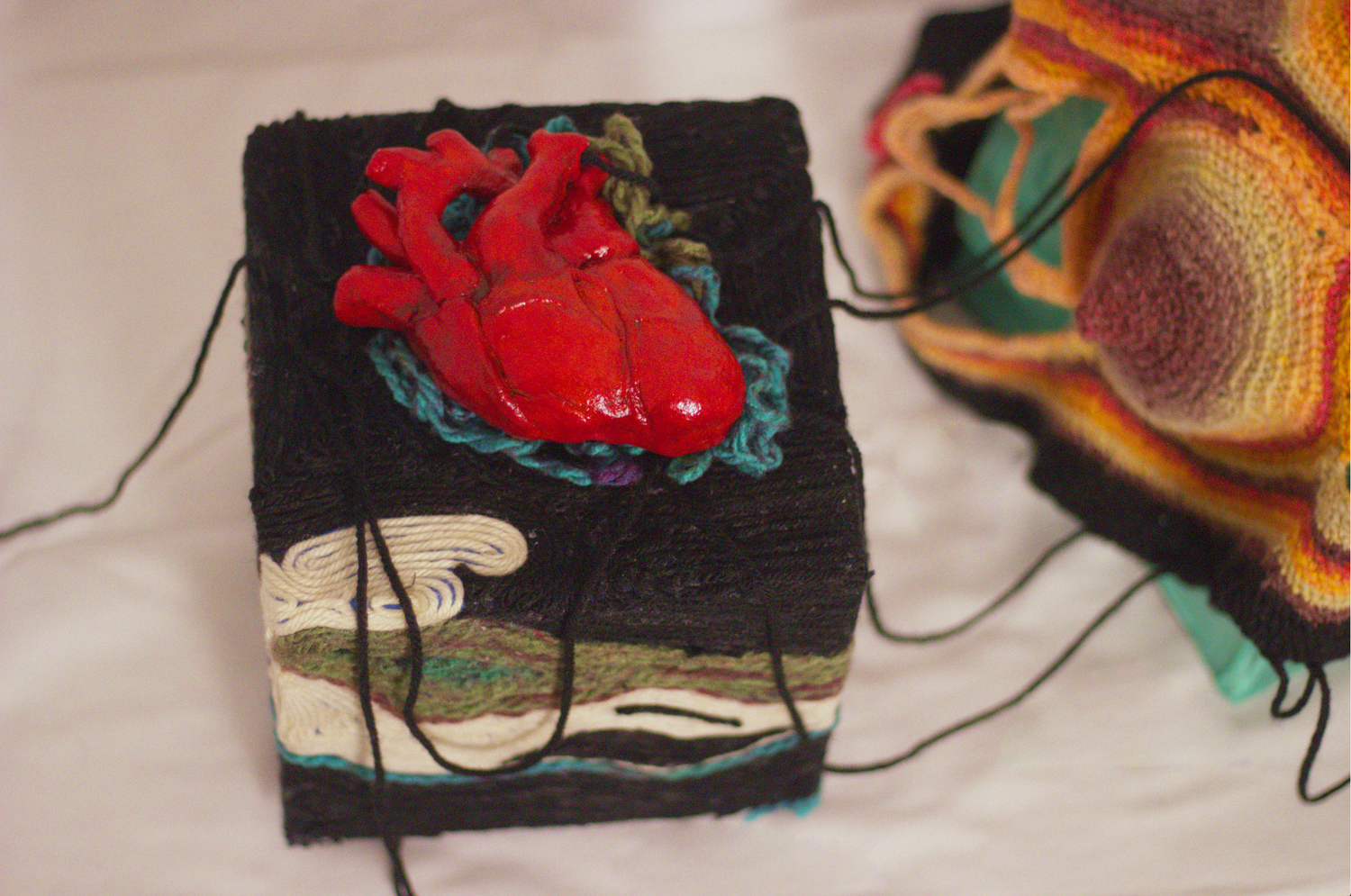 Erratic Palpitations, 2022
Yarn, clay, acrylic paint, wood, plastic bag
10 x 24 x 12 in
Lindsey Flickinger
Two forms, the inside and the outside. On the left, the cube swirls with internal energy, powering the beating heart. On the right, the plastic is stretched to the cube frame, pulled thin like a skin. The two cubes fit, one inside the other like nesting matryoshka. By separating them, releasing the internal from its suffocating form, both sides are allowed to relax and expand. The self- imposed limitations and boundaries have been released to show the heart, the internal, in a much clearer light. The epidermic block is draped in a second skin, a crocheted blanket reflective of natural forms taken from the body. It is warm and comforting, but also dense and heavy. The crochet stitches build upon each other radially, a repetitive meditative act focusing on the body it is forming. The reds and yellows radiate pain, through the back, the breasts, the hands. It is almost too much for the heart to keep up with. The outside, for so long, has defined what can be expressed by the internal. But those days are ending. They are freeing themselves of each other, while still tied together.